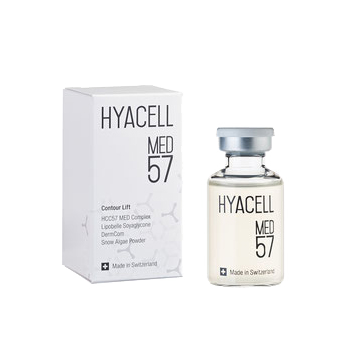 MED 57
For mimic skin wrinkles.
The papillary dermis is stimulated and minimizes wrinkles from the depths.
Description
The hyaluronic acid resins in the ampoules are specially manufactured for cabin applications.
Specifically: Micronedling, ultrasound, electroporation, radio frequency or after laser applications.
The ingredients are more concentrated than in the sales products and the viscosity is adjusted.
The basis of our seas are non lyophilized medical hyaluronic acids. This means that our hyaluronic acid is produced biotechnologically and is free of animal origin.
Since we process the fresh, pure hyaluronic acid directly, the process of lyophilization (freeze drying) does not take place. This manufacturing process is our secret recipe and constitutes the uniqueness of our products.
Our seas contain 3 different sizes of hyaluronic acids. The smallest one has a chain length of only just 3 kDa (kilodaltone) and penetrates the skin deep into the dermis. The mean hyaluronic acid has a size of 750 kDa. These molecules penetrate the epidermis to the basement membrane. The long-chain hyaluronic acid has a size of 1,700 kDa and remains on the skin surface.
Active Ingredients
3-chain hyaluronic acids
HCC46 Complex
Epidermal growth factor
Fibroblast growth factor
Vitamins A, B3, B6, C, E, H
Coenzyme Q10, Gaba
astaxanthin